Jessica Purcell
Assistant Professor
Department of Entomology
University of California, Riverside
jpurcell@ucr.edu
phone:951-827-7258

Lab News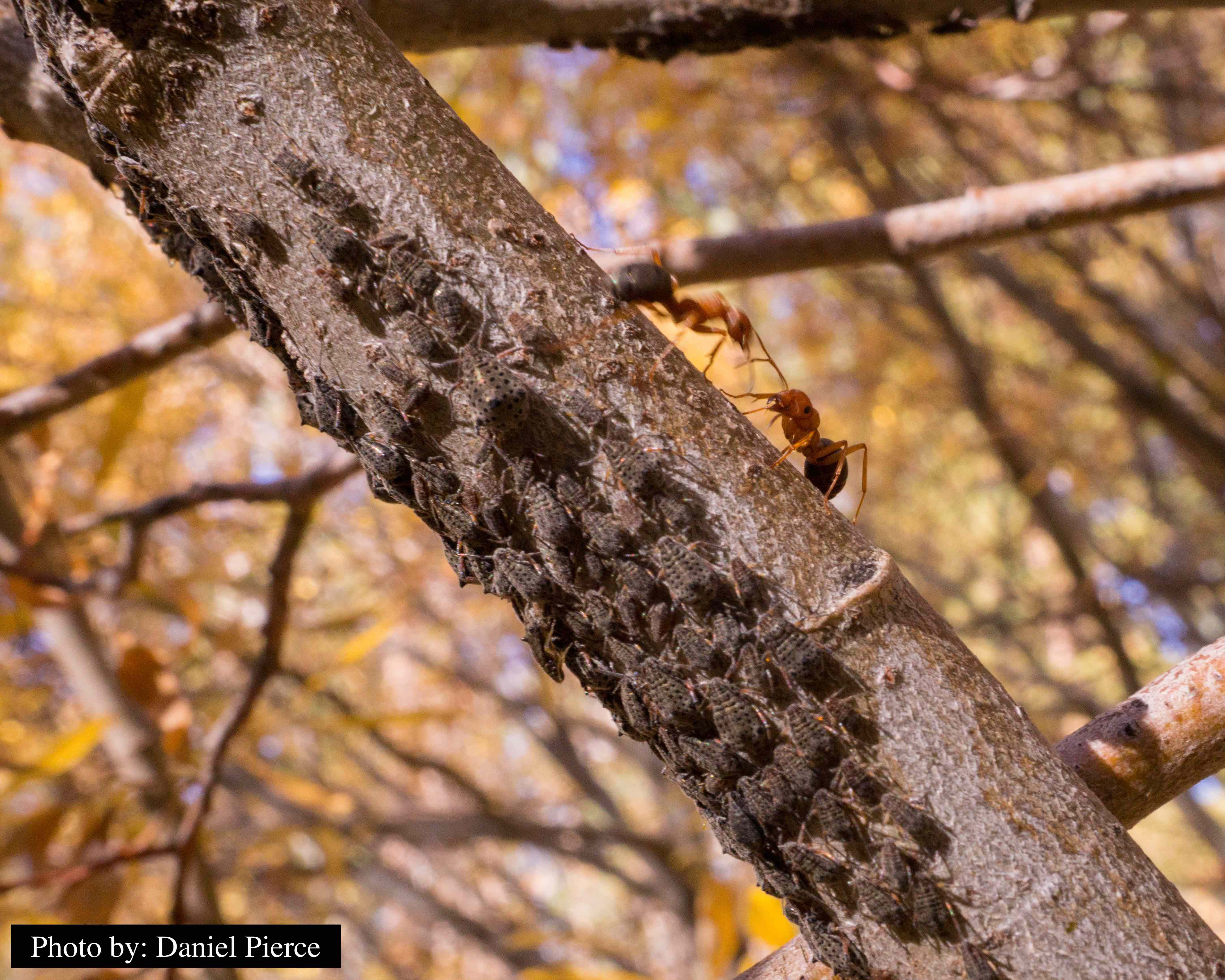 July, 2020
We have lots of news to catch up on, after a very successful and strange 2019-2020 academic year.
We wish our graduating seniors Guadalupe (Liz) Gonzalez and Ka (Gary) Wu all the best. We hope you'll come back to visit in the post-pandemic world— we missed getting to say goodbye!
We are excited to be launching the Six Legs program, which will establish a training pipeline for community college and transfer students interested in pursuing research related to agriculture or conservation. Check us out at https://six-legs.ucr.edu!
Congratulations to Mari, whose first thesis chapter was recently published in Behavioral Ecology and Sociobiology!
Congratulations to Madison, who won the prize for best talk in her session at the Entomological Society of America meeting and recently received a USDA predoctoral fellowship!
Congratulations to Darin for his acceptance into the BS + MS program. We're excited to continue to work together and to have an excellent researcher like you as a member of the first cohort of students in this new program!
Congratulations to incoming graduate student Marie, who received a Fulbright fellowship! Great way to start your PhD, Marie!
We look forward to welcoming Marie and incoming postdoc Giulia whenever the embassies reopen and they can get their visas. For now, we're happy to have two-continent virtual lab meetings with you!
Congratulations to Dr. Purcell on receiving the NSF CAREER grant. We're looking forward to getting to work on some new research aims!
Thanks for Marie and Giulia for collecting ants in Europe so that we don't have to miss a full year of collections on our European ant project! This is a small bonus to the COVID-related delays to your arrival in California.
September, 2019
The Purcell Lab has had a successful field season! Madison has returned from Colorado and Dr. Purcell has returned after travelling to Italy, Utah, Switzerland, and Hawaii for various research projects.
Congratulations to Aldo on his new job as the Assistant Manager of the James Reserve in the San Jacinto Mountains! You will be missed! We can't wait to visit you!
Congratulations to Dr. Purcell whose application for a USDA NIFA HSI training grant has been recommended for funding!
Congratulations to Madison, who won best poster at UCR Entomology's Annual Student Seminar Day!
June, 2019
Congratulations to Ph.D. Candidate Madison for passing her qualifying exams! We are so proud of you!
Madison is headed off to Colorado for fieldwork for the summer! While there she will be studying how different abiotic factors impact nest construction behavior of Formica podzolica. Wish her luck!
For the next few weeks, Dr. Purcell will be in Italy studying reproductive behavior in Formica cinerea. Safe travels!
Congratulations to Dr. Purcell and Aldo, who recieved a UC Mexus/CONACYT grant to study social parasitism in Formica from the United States and Mexico with their collaborators Varela Hernandez, Milan Janda, and Julie Miller.
We said farewell to so many wonderful undergraduates this year. Best wishes to Alyssa, Shirley, Jeneane, and Kiera. We will miss you!
April, 2019
Dr. Purcell and Dr. Brelsford traveled to Israel this month to meet with their collaborator, Eyal Privman, regarding their Binational Science Foundation Grant.
Dr. Purcell, former Purcell Lab undergraduate (current lab technician), Alyssa, and Purcell Lab undergraduates, Kiera and Jeneane, presented their research at this years Entomological Society of America, Pacific Branch Meeting.
March, 2019
This month, we spent a weekend together with our friends in the Brelsford lab, talking science and taking in the breathtaking desert landscape (birds, insects, and superbloom), at the Steele/Burnand Anza-Borrego Desert Research Center, during our annual joint lab retreat.
February, 2019
Congratulations to Madison for receiving a research grant from the Boulder County Parks & Open Space! Madison will be using the funding for her field research this summer, investigating the impacts of ant nest construction on soil properties.
We published a paper! Please check out our paper discussing challenges faced by social insects in the face of global change, published in Insectes Sociaux this month. Mari and Dr. Purcell wrote this paper in collaboration with Dr. Hollis Woodard and Ph.D. candidates Kaleigh Fisher and Adriana Lomeli, also from UCR's Entomology Department. The paper resulted from a seminar on Social Insects taught by Drs. Purcell and Woodard.
January, 2019
Congratulations to Ph.D. Candidate Mari for passing her qualifying exams! We are so proud of you!
July, 2018
Lots of great success this summer! Congratulations to Aldo de la Mora for receiving a UC Mexus postdoctoral fellowship, to Madison Sankovitz for receiving a NRT in Computational Entomology (NICE!) graduate fellowship, to Mari West for receiving the Harry Shorey Award to support her work on ant pheromones, and to the Bugging out in the Alps students for making our first study abroad course a huge success!
June, 2018
Please stay tuned for our newly accepted article in Pan-Pacific Entomologist! We observed a fascinating interaction between spiders and ants in UC's Granite Mountain reserve. To learn more, please read our paper-- coming soon!
May, 2018
Jessica traveled to New York this month to speak about her work on a 'social' supergene at Cold Spring Harbor Labs.
March, 2018
Four abstracts have been submitted by lab members for the International Union for the Study of Social Insects conference this summer! We're excited to travel to Brazil!!
February, 2018
Check out our new instagram page! Thanks, Madison!
The Purcell lab had lots of representation at the Southern California Animal Behavior meeting at UCLA on February 25th! Well done to presenters Mari, Madison, Aldo, Alyssa and Shirley!