Jessica Purcell
Assistant Professor
Department of Entomology
Universidad de California, Riverside
jessica.purcell@ucr.edu
phone:951-827-7258

Junxia Zhang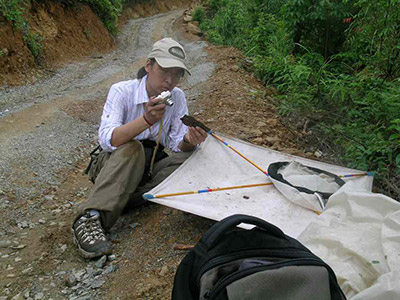 My research interests are rooted in exploring phylogeny and biodiversity of life, and have extended into a wide spectrum of fields: evolutionary patterns, mechanisms and processes in biodiversity, historical biogeography, genitalic evolution and sexual selection, and evolution of sociality. My research has mainly focused on spiders (Arachnida: Araneae), but has recently also expanded into insects, the assassin bugs (Hemiptera: Reduviidae) and ants (Hymenoptera: Formicidae).
In the ant lab at UCR, I am interested in the evolution of social complexity in ants: ants show variation in complexity of sociality with both polygynous (colony with multiple queens) and monogynous (colony with single queen) colonies. Taking advantage of the recently discovered social chromosome in Formica selysi, we aim to build a phylogeny for Formica species from Europe and North America using RAD-seq technology, investigate the evolutionary history of social chromosome in Formica, and explore possible drivers (ecology vs. genetics) of social structure variation in this ant group.
Academic Background
University of British Columbia, BC, Canada PhD in Zoology, 2012
Thesis: Phylogeny and systematics of the jumping spider subfamily Euophryinae (Araneae:Salticidae), with consideration of biogeography and genitalic evolution (available at https://circle.ubc.ca/handle/2429/42354)

Hebei University, Hebei, China M.S. in Zoology, 2002
Thesis: A review of the Chinese nursery-­‐web spiders (Araneae:Pisauridae)

Hebei Normal University, Hebei, China B.S. in Biological Education, 1999
Research Interest:
Phylogeny, phylogenomics, biodiversity, historical biogeography and systematics; evolutionary biology with emphasis on genitalic evolution, sexual selection and sociality evolution.
Research Experience:
Postdoctoral Fellow, University of California, Riverside, Department of Entomology, USA, 2015.10-­‐2016.11 (PI: Dr. Jessica Purcell)

Postdoctoral Fellow, University of California, Riverside, Department of Entomology, USA, 2013.11-­‐2015.10 (PI: Dr. Christiane Weirauch)

Collections Technician, Entomology, University of British Columbia, Beaty Biodiversity Museum, Canada, 2013.01-­‐2013.04 (Supervisor: Karen Needham)

Postdoctoral Fellow, University of British Columbia, Department of Zoology, Canada, 2012.08-­‐2012.12, 2013.05-­‐2013.10 (PI: Dr. Wayne P. Maddison)
Teaching Experience
Graduate Teaching Assistant, University of British Columbia, Department of Zoology, Canada, 2006-­‐2012

Lecturer, Hebei University, College of Life Sciences, China, 2002-­‐2005