Jessica Purcell
Assistant Professor
Department of Entomology
Universidad de California, Riverside
jessica.purcell@ucr.edu
phone:951-827-7258

Amanda Hale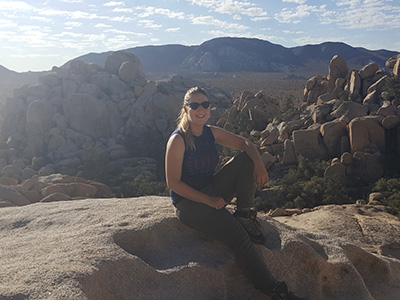 Research Interes:
As a microbiology Ph.D. student, my research interests are the interplay of the gut microbiome in native verses invasive ant species, ant behavior, and ant resource management. I most enjoy the field biology aspect of my work. I also enjoy creating scientific illustrations in my spare time.
Academic Background
Ph.D. Microbiology Anticipated 2020 - University of California Riverside (UCR)

B.A. Political Science 2011 - University of California Los Angeles (UCLA)
Posters
Hale, Amanda. Purcell, Jessica. A Gut Feeling: The Role of Gut Microbiome Plasticity in Invasive Ants. Poster presented at: Entomology Student Seminar Day, UCR. Fall 2016

Vuong, Hoang. Hale, Amanda. McFrederick, Quinn. Genomics of Flower and Bee Gut Associated Microbes. Poster presented at: Sixth Annual Yosemite Symbiosis Workshop. Spring 2016

Hale, Amanda. Improving the Application of Entomopathic Nematodes. Poster presented at: Southern California Conference on Undergraduate Research October 2014, Honors Transfer Council of California Student Research Conference. November 2014, The 3rd Annual IVC/SC Student Research Symposium. September 2014
Fellowships and Funding:
Shipley-Skinner Reserve Grant: $12,862 (2016)
The Center for Conservation Biology, the College of Natural and Agricultural Sciences UCR

Dean's Distinguished Fellowship, UCR (2015)

Grad Edge Jump Start Program, UCR: $5,000 (2015)
Awards:
IVC/SC Student Research Symposium 2014 - First Place Poster

Novice Debate Division Gold Southwest Regional Championship 2012 Southwest Regional Championship
Publications
Quinn S. McFrederickEmail, Jason M. Thomas, John L. Neff, Hoang Q. Vuong, Kaleigh A. Russell, Amanda R. Hale, Ulrich G. Mueller. Microb Ecol (2016)
Flowers and Wild Megachilid Bees Share Microbes doi:10.1007/s00248-016-0838-1.